LATEST UPDATE AS ON 12/10/2012:
Dear Residents,
Here is an update in our case CC/157/09 ( 3 Major decisions were taken yesterday by Hon. Forum ).
1) Our case is still pending before the Hon.Forum for adjudication ( Stay continues ) & the interim order dtd 29.01.2009 is still in force.In view of the above mentioned order builder / service provider cannot charge more than Rs.225 pm for maintenance & Rs.100 pm for water.
2) Our case is separate from CC/268/09 ( which is Residency Case ).Both cases are not connected.
3) No other group or organisation is party in our case , its only Ardee City RWA.
Be part of your RWA & protect your interests or you may repent later.
** Order issued by Hon. Forum is attached.

President, Vice President & Gen. Secretary
Ardee City RWA
LATEST UPDATE AS ON 09/10/2012:
Legal Notice sent to Ardee (builder) is attached for your reference at http://www.ardeecityrwa.com/uploads/full/updated-06-10-2012-ardee-increased.jpg
-------------------------------------------------------
LATEST UPDATE AS ON 06/10/2012:
1) Update regarding legal proceedings against Ardee (builder):
a) That, in August 2009, the RWA filed a case no. 157/2009 in Hon'ble Consumer Court seeking a restraint on the Ardee Housing pvt. Ltd and Ardee Infrastructure to desist from increasing the maintenance charges payable by the residents of Ardee city.
b) The Hon'ble Court, vide its order dtd. 29.01.2009, restrained Ardee Infrastructure Pvt Ltd / M/s Ardee Housing Pvt Ltd from increasing the maintenance charges beyond Rs.225/- pm for maintenance and Rs.100/- pm for water.
2) 'Chaupal', during the court proceedings, tried their best to interfere in the court for being impleaded as a party in the case, which the Hon'ble Court DISALLOWED. Instead, the court brought them under the ambit of case no. 268/residency, which is / was between Ardee city Residency Apartments Vs Ardee Housing / Ardee Infrastructure; And directed the Ardee management to 'hear' the pleadings of the Chaupal in that case.
3) Please note that both the cases are different and there is no status change or order in our case against Ardee.
4) During the intervening period, there was a gut feeling that the case file was attempted to be tempered with by some unknown persons having some vested interests. Timely intervention by our vigilant colleagues / advocates prevented them to cause any damage. Consequently, the two cases are mutually exclusive and proceeding separately.
5) Evidence of documents is being uploaded on website which is self-explanatory.
a) The Hon'ble Court order restraining Ardee management from increasing maintenance charges, as mentioned above;
6) It was further advised that the actions/ defence of the RWA would hold good for only the valid members of the RWA. Other residents remain vulnerable because the agreement for maintenance is between individual resident and the Ardee management, unless he/she has duly authorised the RWA for common cause, as a valid member.
7) Hence, it becomes necessary for each and every resident to become a member of the RWA to remain insulated from the reckless and illegal actions of the Ardee management.
8) Owner-residents should become yearly member / life-members and tenants should become yearly members.
9) Individual protest letters are available in the RWA office which can be obtained from there to be mailed to them individually/ collectively.
Draft copy of protest letter is available at: http://www.ardeecityrwa.com/draft-of-the-letter-notice-against-0836.html
Attached below is circular and copy of court case: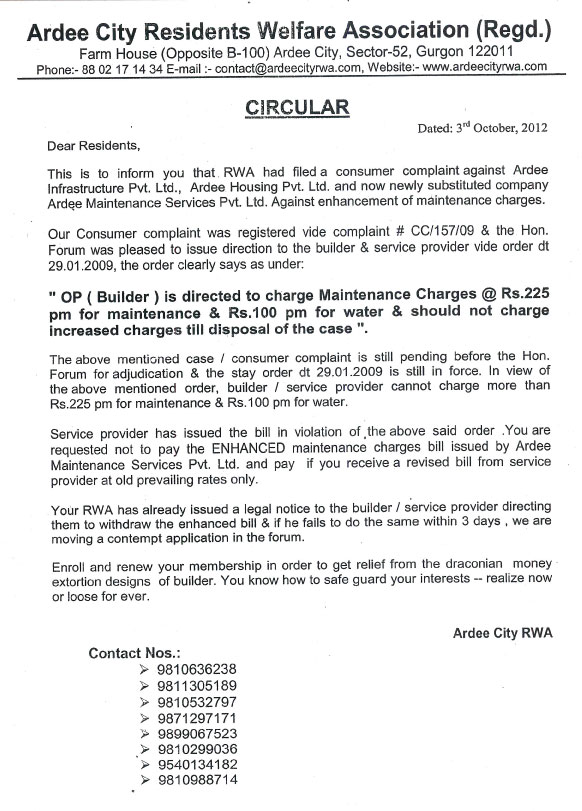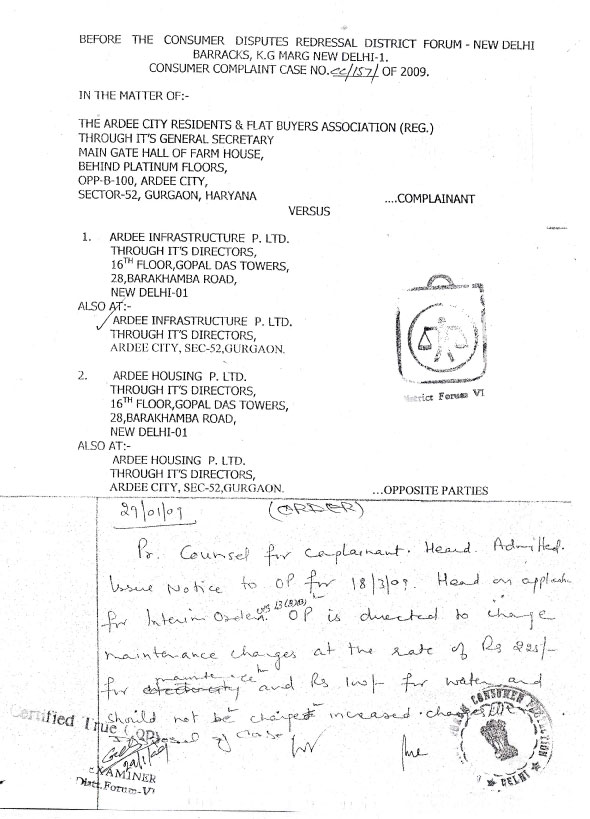 ----------------------------------------------------------
Dear Residents,
We have got information that Ardee Infrastructure has increased its maintenance bill at Rs. 2 per sqft from Sep, 2012, without even informing anybody or RWA. Some of residents have received a hefty maintenance bill of Rs. 3000 today.
We hereby want to clarify situation that court stay on maintenance charges has not changed for Ardee city and decision is still pending as of current. Therefore sending such bill is not only showing a dictator behavior but it's a contempt of court as well.
We Ardee City RWA strictly advice all residents NOT TO PAY ANY MAINTENANCE BILL until next instructions. Please be assured that you will not be barred from any service or supply.
We are looking into this matter urgently and require all residents support to fight strongly against such shameless act from Ardee. We also advice don't be affected by rumors and useless advices by any other people or group.
PLEASE BE UNITED AND BE STRONG.
Thanks,
Ardee City RWA