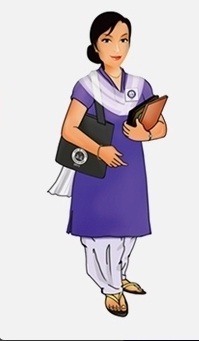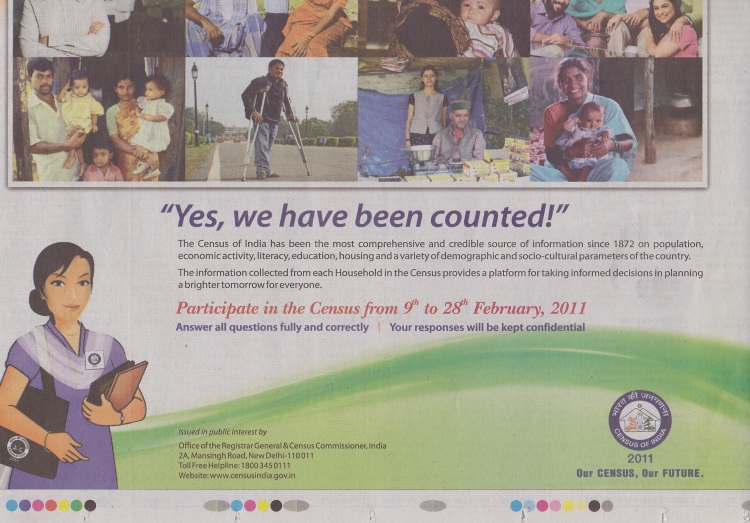 DEAR RESIDENTS
CENSUS OFFICIALS WILL BE VISITING YOUR HOUSES DURING THE MORNINGS AND EVENINGS OVER THE NEXT SEVERAL DAYS FOR CENSUS BEING UNDERTAKEN FOR THE NATIONAL POPULATION REGISTER.  REQUEST YOU TO KINDLY EXTEND YOUR HOSPITALITY AND COURTESY TO THE OFFICIALS AND VOLUNTEER WITH ALL THE INFORMATION REQUESTED BY THEM.
THANK YOU FOR YOUR CO-OPERATION!

Toll Free Helpline: 1800 345 0111
http://www.censusindia.gov.in/

http://www.facebook.com/Census2011

Enumerators profile
A billon plus persons to be counted by visiting 240 million households in just three weeks! Is this feasible? Can this be done?? What would be the quality of such an exercise??? Questions that naturally arise in everyone's mind. I too had the same doubts when I was told that I was selected to be a part of this exercise. Today, the last day of training, I am confident that the task would be accomplished as efficiently and with the same degree of quality that it is known the world over for the last century and more. You must be wondering who I am and what I am talking about? Well, I am one among a million, nay two and a half million persons that have been selected as an Enumerator for Census 2011. I really deem it a privilege to have been given this unique opportunity to contribute my bit to a great National cause and let me share with you why. Firstly, the task is a historical one – I am part of a tradition that started in India in 1872 and has been a continuous feature every decade without a break. When I learnt that very few countries in the world have such a legacy my heart swells with pride! Secondly, I am part of a task that is billed as the largest peacetime operation in the world. I understand that no other country in the world conducts such a comprehensive exercise. It feels great to be part of this team.
That apart, it is the relevance of the work that really makes me happy to take part. When I realize that the data that I am going to collect is going to be the basis on which development plans are going to be based and that indirectly I will be contributing to the task of nation building, I feel the small effort that I am going to take is really worthwhile.
Today, after the three days of thorough training I have been given my confidence is high. The questions that plagued me have been resolved. The gigantic task that looked so unrealistic now seems quite achievable, why even simple. I only have to visit around 125 households and count a population of approximately 750-800 people in the three weeks from 9th to 28th February 2011. That means I only have to visit 5-6 households a day! As small drops of water make a mighty ocean, the 2.5 million enumerators would achieve the task of counting the 240 million households without any difficulty.
As regards quality, I have been trained comprehensively on all aspects of the Census. The instruction manuals are exhaustive with illustrations and filled-in examples. Moreover they are in my own language- I am given to understand that the manuals are available in 18 Indian languages. Really a remarkable thing! Even more interesting is the way the training was imparted by my master trainer with role-play, discussion etc. The e-learning module has been particularly impressive as these illustrate the difficulties an enumerator faces while canvassing the schedule and how one can overcome them. I am a teacher but I too learnt a trick or two from the trainers. It is also such a relief that I can also call on the Help Line Number 1800-345-0111 for any clarification. Thank god for modern technology!
The schedules are quite impressive too. The high quality of printing, the numbering of each schedule, the bar-code and the pleasant colour are things that stand out. I am told these forms have been specially designed and match the best in the world. Quite natural- the best Census should have the best inputs.
Confident as I am, I still have butterflies in my stomach when I think about entering the homes of total strangers and asking them personal questions. I draw comfort from the fact that the Census Act has bestowed upon me certain statutory powers that make my task simpler. At the same time I am sobered by the realization that the same Act also has cast certain duties upon me. No wonder they say, with great power comes great responsibility! On the other hand, I am excited too. Some of my colleagues who took part in the previous Census narrated how they met interesting people and had unforgettable experiences. Maybe I will write an article or even a book on my experiences. I am eager to start!